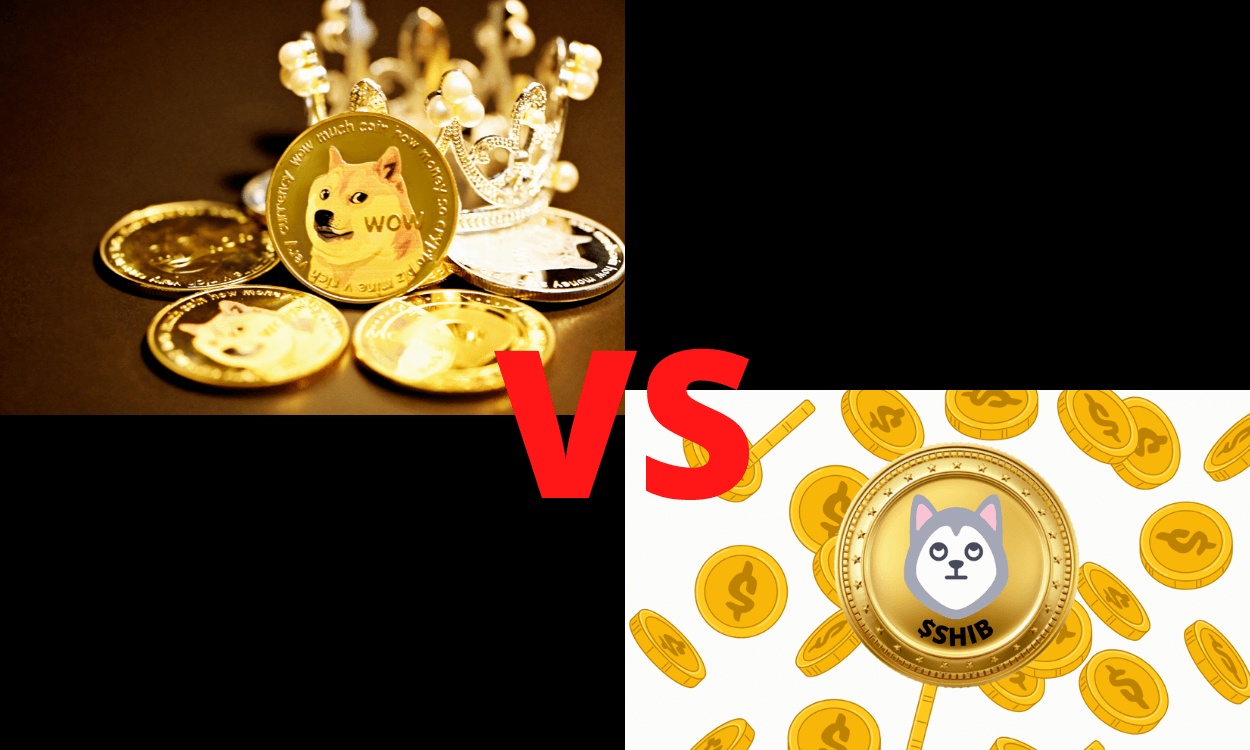 Dogecoin ( DOGE ) and Shiba Inu ( SHIB ): What are they?
 Dogecoin and Shiba Inu coin control the memecoin category currently. Here are two memecoins we can look at.
What is Dogecoin?
A cryptocurrency called Dogecoin was created by software developers Billy Markus and Jackson Palmer as a joke, mocking the wild speculation in cryptocurrencies at the time. The investment opportunity is considered legitimate by some even though it is satirical. 
What is Shiba Inu coin?
A cryptocurrency known as Shiba Inu, or Shiba Token, was created in August 2020 by an anonymous individual known as "Ryoshi". It is a Dogecoin-based ERC-20 token that's based on the Ethereum blockchain, dubbed "the Dogecoin killer".
Difference between Dogecoin and Shiba Inu
In terms of Technology:
DOGECOIN Technology
The technology behind Dogecoin is similar to that of Bitcoin. Its code is a copy and pasted copy of Bitcoin's. 
However, Dogecoin isn't an exact copy of Bitcoin. Bitcoin is much more limited in supply than Dogecoin, which has a higher circulating supply. In comparison to Bitcoin's 21 million maximum supply, DOGE's supply is over 129 billion.  
Due to its proof-of-work nature, Dogecoin uses computing power to secure its blockchain in a similar way to Bitcoin. Any Litecoin miner or Dogecoin miner can also mine Dogecoin because both currencies are merge-mined. It gives more stability to the network power than if it was mined alone.
SHIBA INU Technology
Ethereum's network is home to the Shiba Inu coin. Tokens that can be fungible, like Shiba Inu, are ERC-20 tokens, while non-fungible tokens (NFTs) are ERC-721 tokens. Shiba Inu's token can take advantage of smart contracts, since Ethereum powers the platform. 
This year, the DeFi industry has gained traction with tokens like Uniswap, yearn.finance, and Aave experiencing a price explosion and wide adoption. By using smart contracts on the Ethereum blockchain, these cryptocurrencies can be used to create decentralized exchanges (DEXs), lending protocols, and even interest-bearing accounts.
By joining the Artist Incubator of the DeFi space, Shiba Inu will be able to gain access to space. Smart contracts will replace the third-party needed for transactions with the decentralized program's Ethereum network.
To search for bones, users will stake Shiba Inu tokens after it launches its DeFi ecosystem. Shiba Inu has declared Bones to be the Dogecoin killer, as mining the token will only be possible by staking Shiba Inu tokens on the platform.
A tokenomics perspective on Dogecoin and Shiba Inu
As compared to other mainstream cryptocurrencies, Dogecoin and Shiba Inu have a far more abundant supply of tokens. In essence, this means that the tokens will be cheaper per unit. Despite the coin's price hovering around $0.50, its market capitalization exceeds $65 billion, which makes the coin more valuable than Ford Motor Company, Honda, and Lululemon combined. 
Miners are rewarded with 10,000 Dogecoins per minute by Dogecoin. Dogecoin's supply steadily increases, creating downward pressure on the currency. The maximum supply of Shiba Inu tokens is 1 quadrillion, which is much greater than that of Dogecoin. A large amount of these tokens have been burned, though, and half of the supply has been given to Ethereum creator Vitalik Buterin as "tribute".
Buterin's tokens are not likely to go up for sale as the face of Ethereum. Shiba Inu's team is likely to honor him by storing his tokens in an Ethereum wallet, and he will appreciate the tribute paid to him. 
Its tokenomics are more complex than those of Dogecoin. With each transaction, a portion of an investor's investment is burned, making Shiba Inu tokens more scarce with time.
Shiba Inu, through its platform, will let investors earn Bone tokens through staking their tokens, basically allowing Shiba Inu investors to earn interest on their investment. 
Where to buy it?
DOGECOIN
Most exchanges have not listed Dogecoin because of its volatility and speculative nature. DOGEcoin can be purchased on Binance and Robinhood, two of the best exchanges. 
Market orders allow you to buy DOGEcoin instantly at market price by placing a limit order on an exchange. Limit orders buy DOGE at a pre-determined price. Orders with a limit price will only execute at the price specified.
SHIBA INU COIN
The Shiba Inu coin can be bought on a decentralized exchange (DEX) since the Shiba Inu token uses the Ethereum network. Ethereum's most popular exchange is Uniswap. Optimism, a scaling solution for Ethereum, is scheduled to be launched on UniSwap's platform later this month. It will now be much easier for retail investors to transact on Uniswap's DEX, so be sure to follow Uniswap's Twitter account for updates.
Shiba tokens can currently only be traded on Binance, while you'll need to verify your identity on the platform if you want to open a Binance account. Since Binance stores your crypto on the exchange rather than in your cryptocurrency wallet, it is generally considered to be less secure than DEXes.
Conclusion
Both Dogecoin and Shiba Inu have market capitalizations of over a billion dollars, and they are highly speculative investments. There's a lot of risks involved with these puppy-themed cryptos, especially if you want to make a quick buck. 
Investing in tokens that already have thriving products available to the masses is likely to be a good choice for those who are less risk-tolerant. The Ethereum, Uniswap, and Aave tokens are among these established tokens.