Robinhood is one of the latest trending free-trading app that lets investors trade options, stocks, and exchange-traded funds without having to pay fees or commissions. If you have heard about this platform and are wondering whether it is a good option, this independent review will provide the answers you need.
What Is Robinhood?
Robinhood is a one-of-a-kind trading app that is shaking up the financial industry. This discount stock broker was incepted in 2015 and currently has more than 10 million users who have completed transactions worth billions of dollars. Robinhood offers fee-free stock trades and a cash management account where you can earn interest on cash or pay your bills via a Mastercard debit card. Users are also able to access withdrawals at ATMs located all over the world, with no account minimums, foreign transaction fees, or transfer fees. If you have been looking for a great tool to put your money in motion, Robinhood may be an excellent product choice.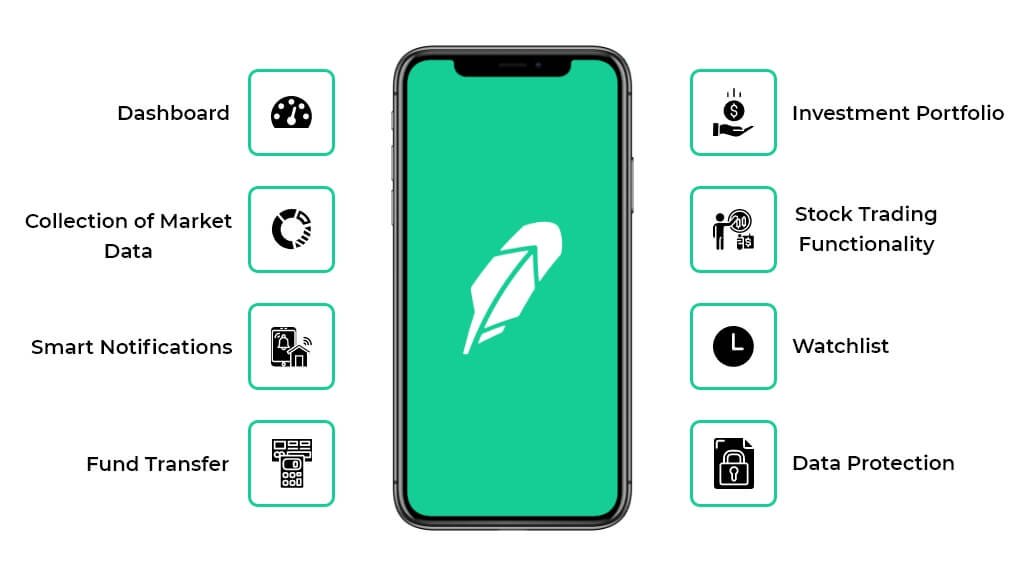 JOIN ROBINHOOD APP AND GET A FREE STOCK
Robinhood Features
Robinhood stock trading app comes with numerous features that are designed to provide commission-free inverting and account management functions.
Scheduled Deposits – schedule automatic transfers on a periodic basis (weekly, biweekly, monthly, etc.)
Dividend Reinvestment – this is an option to automatically reinvest any cash dividends that are received in the underlining stock or ETF. Only ETFs or stocks that support fractional shares are eligible.
Advanced Order Support – Robinhood comes with support for limit orders, market orders, stop-limit orders, and stop orders. You can easily specify orders as good for the day, or otherwise good till cancelled.
Robinhood Instant – this feature enables instant access to deposits that are less than 1,000 dollars, and immediate access to funds received from stock sales. There is no requirement to wait for three business days as is the norm.
Day-Trade Tracking – in case you are a fan of day trading, Robinhood lets you track a maximum of three trades over a rolling 5-day period.
Robinhood Gold – this is a valuable feature that brings after-hours trading as an option, as well line of credit and larger values of instant deposits.
Options Trading – Robinhood investor platform makes it possible to make commission-free options trades.
Cryptocurrency Trading – easily invest in Bitcoin, Ethereum, Dogecoin, Litecoin, and other cryptocurrencies.
JOIN ROBINHOOD APP AND GET A FREE STOCK
Is Robinhood a Scam?
As far as we are concerned, and based on Robinhood reviews from other users, this investor platform is not a scam. Robinhood cryptocurrency, stock, and options trading platform is very upfront about its fees, as well as how it makes money. The program promises to not charge commissions and actually follows through with this pledge. Money held in the program is protected by SIPC (Securities Investor Protection Corporation) up to a value of $500,000 (for securities) and $250,000 (for cash). Keep in mind – however, that cryptocurrency investments are not SIPIC-protected. Just like any other stock broker, Robinhood is regulated by the SEC (Securities and Exchange Commission). Furthermore, the program is a member of the self-regulatory organization FINRA (Financial Industry Regulatory Authority). On the flip side, Robinhood has had some outages over the last year that have caused frustration among some brokers.
How does Robinhood Work?
The Robinhood program is essentially a smartphone-first brokerage where you simply open an app on your device and enter a password to access your account. Once you are logged in, you will be able to trade in stocks, options, and a variety of cryptocurrencies. Simply download and install the app on your Android or iOS smartphone to get started.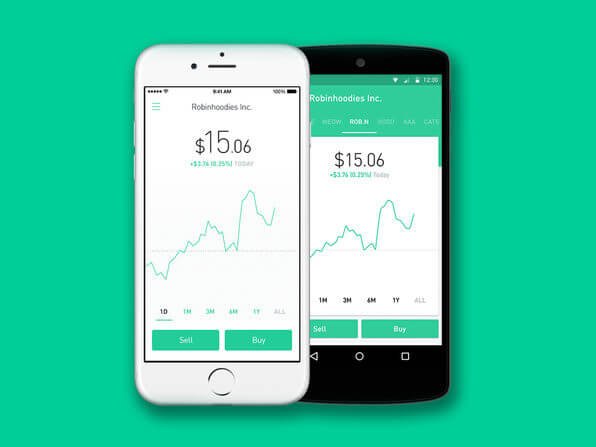 JOIN ROBINHOOD APP AND GET A FREE STOCK
Who Is Robinhood for?
Robinhood investor program offers commission and fee-free trades that are particularly geared for millennial investors. This platform has become very popular with do-it-yourself investors, given that it is based on a smartphone and very convenient to use. Robinhood also comes with a website that is equally easy to use. If you are looking to delve into the world of stock and options trading without all the bells and whistles of a traditional program, Robinhood is an excellent platform choice.
Is Robinhood completely free?
Investing in Robinhood stock trading platform is an entirely commission-free experience. They do not charge any fees to create an account, maintain an account, or transfer funds to the account. However, it is important to note that the platform passes on small fees charged by regulatory organizations such as FINRA to its users.
JOIN ROBINHOOD APP AND GET A FREE STOCK
Robinhood Commissions & Fees
Robinhood is a commission and fee-free trading and account management platform. However, some small fees are applicable in certain conditions. A meagre regulator fee of $22.10 is applicable for each $1 million of principal. Small service fees also apply for paper statements ($5), paper confirms ($2), domestic overnight mail ($20), and international overnight mail ($50).
Is Robinhood safe?
Many stock and cryptocurrency investors are worried about security when selecting a trading platform. Robinhood users advanced measures and layers of encryption to ensure that their users have a safe and secure trading experience. Among other safety measures, account passwords are hashed with industry-standard BCrypt hashing algorithms.
JOIN ROBINHOOD APP AND GET A FREE STOCK
Trading Platforms & Tools
Robinhood is particularly designed to meet the needs of new investors. That means it provides basic trading tools that may not be ideal for the needs of experts. You get rudimentary charts, and functions to automatically reinvest earned stocks and dividends. Despite the lack of complicated tools, one of the greatest strengths of this stock trading platform is its simplicity.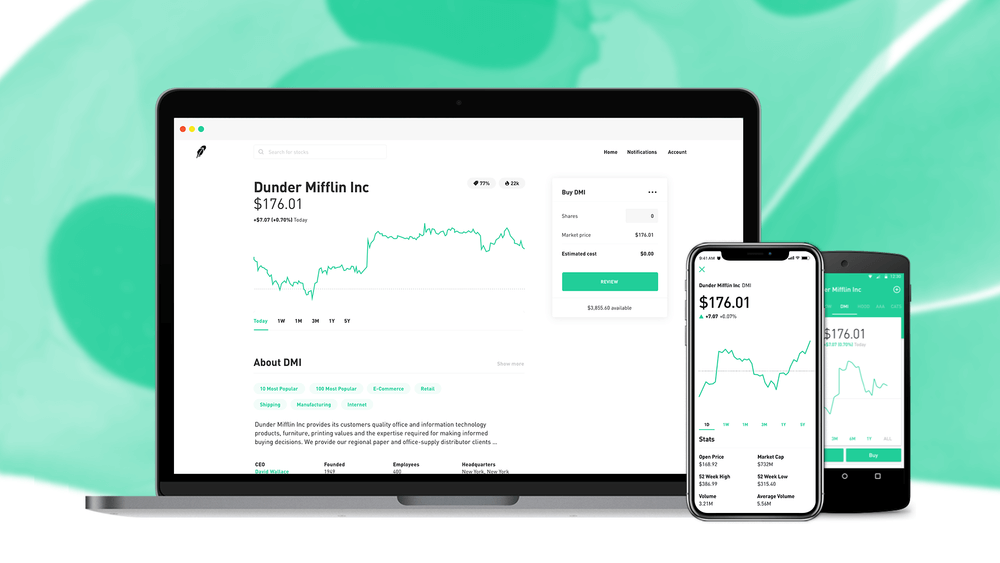 JOIN ROBINHOOD APP AND GET A FREE STOCK
How Robinhood Makes Money
According to the official Robinhood website, the investor program makes money from interest resulting from customer stocks and cash. This is much like a bank earns interest on cash deposits. However, keep in mind that Robinhood stock and options trading platform does not generate income through lending interests.
Robinhood Gold
Robinhood Gold is a premium subscription that offers access to Morningstar research reports at $5 in a month. Based on our own testing and research, we realize that Robinhood Gold may be better suited for more active traders. Still, you have the option to try this premium service free of charge over a period of 30 days.
How to Start with Robinhood?
Getting started with the Robinhood investor platform is very easy. You only need to be at least 18 years of age with a Social Security number and a U.S address. If you are just getting started with stock and options investments, we recommend that you start with smaller amounts and scale up once you have gathered enough experience.